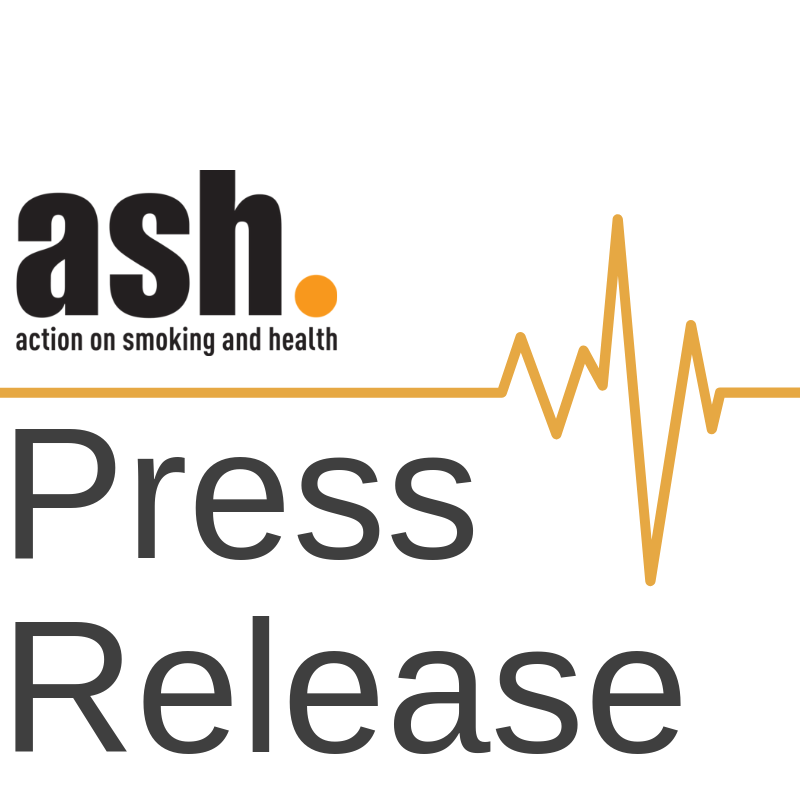 ASH welcomes Government commitment to finish the job and end smoking by 2030
---
22 July 2019
The publication today of the Government's Prevention Green Paper [1] with a commitment to finish the job and have England smoke-free by 2030 was welcomed by Action on Smoking and Health (ASH).
Ending smoking by delivering a smokefree generation by 2030 (defined as prevalence below 5% across society) is achievable, popular and will make the single most significant contribution to delivering the Vision for Prevention goal of 5 extra healthy years of life, while narrowing the gap between the richest and the poorest.[3] However, ASH agrees with the Government that this will be"extremely challenging" to achieve.[1]
Deborah Arnott, Chief Executive of health charity Action on Smoking and Health (ASH) said:
"The Government is to be congratulated on setting an ambitious target to end smoking by 2030. However, to achieve this will require innovative new policies and funding, to quote the Health Secretary, Matt Hancock, 'business as usual' will not suffice. [3]The public understand this, which is why three quarters of the adult population in England support Government interventions to limit smoking, with a growing proportion of them thinking Government should do more." [2] [4]
The Green Paper is the start of a more detailed consultation process. ASH welcomes the commitment to:
Look at a 'polluter pays' approach requiring tobacco companies to pay towards the cost of tobacco control as well as other ideas for example raising funds under the Health Act 2006;
Examine the possibility of inserts in tobacco products giving quitting advice as part of the review of tobacco legislation; and to
Publish further proposals at a later date.
A large survey of over 10,000 adults in England in 2019 found that such measures are supported by the general public [2]:
72% of adults in England support making tobacco manufacturers pay a levy or licence fee to Government to help smokers quit and prevent young people from taking up smoking, (only 7% oppose).
64% of adults in England support requiring tobacco manufacturers to include Government mandated information about quitting inside cigarette packs (only 9% oppose)
Furthermore more than three quarters (77%) of adults in England support activities to limit smoking or think Government should do more.[2] Support for Government to do more to limit smoking increased from 29% in 2009, to 39% in 2017, [4] reaching 46% in 2019.[2] The proportion of respondents who think that Government is doing too much has fallen from 20% in 2009 [4] to 7% today. [2]
ASH will be submitting evidence to the consultation to support a comprehensive approach which includes not only the measures the Government has already said are under consideration, but also additional proposals for the Prevention Green Paper. All these measures were submitted by Bob Blackman MP, Chairman of the APPG on Smoking and Health, [5] supported by ASH and endorsed by 16 other leading health organisations. [6]
ASH is also pleased to note that the Government has committed to ensure that research is carried out on heated tobacco products to determine whether or not they help smokers quit, which is completely independent from the tobacco industry.
ENDS
Notes to the editor:
About Action on Smoking and Health (ASH)
Action on Smoking and Health (ASH) is a health charity working to eliminate the harm caused by tobacco use. ASH receives funding for its programme of work from Cancer Research UK and the British Heart Foundation.
Media Contact
ASH staff are available for interview and have an ISDN line. For more information contact Deborah Arnott (chief executive, ASH) on email: deborah.arnott@ash.org.uk or telephone: 020 7404 0242. Out of hours contact Deborah Arnott (Chief Executive, ASH) on 07976 935 987.
References:
[1]        Prevention Green Paper. Advancing our health: prevention in the 2020s. 2019.
[2]        Annual online survey by YouGov for ASH. Total sample size in 2019 for England was 10338 adults (and 12393 for GB). Fieldwork was undertaken between 12th February 2019 and 10th March 2019.  The surveys are carried out online and the figures have been weighted and are representative of all English adults (aged 18+).
[3]        Department of Health and Social Care. Vision for Prevention 'Prevention is better than cure' November 2018.
[4]        Smokefree: The First Ten Years, Tackling the smoking epidemic in England: the views of the public. ASH 2017
[5]        All Party Parliamentary Group on Smoking and Health. Delivering the vision of a 'Smokefree Generation'. The APPG response to 'Prevention is better than cure'. February 2019. (Commissioned by the Chairman of the APPG from ASH and the UK Centre for Tobacco and Alcohol Studies, which researched and wrote the report for the APPG)
[6]          ASH submission to DHSC Green Paper consultation on the vision for prevention 2019. Endorsed by 16 other leading health organisations. February 2019