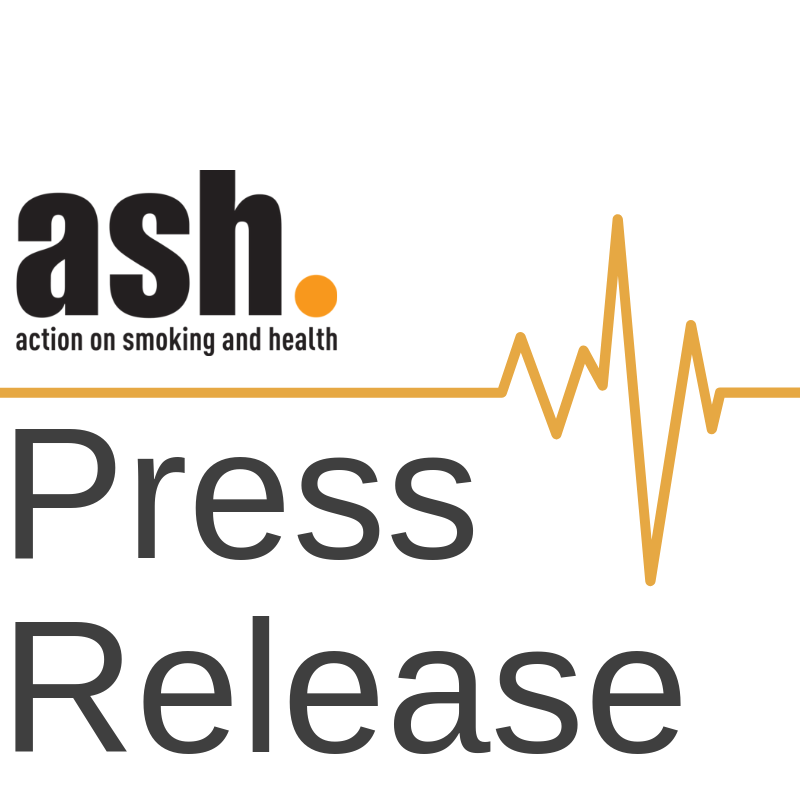 On World No Tobacco Day more people sick from smoking having been given free fags come forward
---
31 May 2019

On World No Tobacco Day more people sick from smoking having been given free fags come forward
On World No Tobacco Day more people have come forward who have been made seriously ill by their addiction to smoking, caused by the free cigarettes they were given by their employers. This follows publicity about the case of Simon Neale, suffering from inoperable lung cancer because of cigarettes given to him when he was a salesman for Rothmans, now part of British American Tobacco (BAT). The practice of handing out "free fags" to employees and the public was endemic in the tobacco industry, and ASH urges anyone else in the same situation to get in touch.[1]  In the 1980s over 30,000 people were employed in a number of manufacturing plants in the UK, in addition to sales representatives who operated all over the country.[2]
Although the tobacco industry denied publicly that smoking was addictive and downplayed the health risks, internal documents make it clear that they were well aware of the dangers. ASH has challenged all four major tobacco manufacturers, BAT, Imperial Tobacco, Gallaher (part of Japan Tobacco International) and Philip Morris International, (PMI) about these practices and what they did to warn people of the risks. [3]
BAT's response to ASH revealed[4] it had continued giving employees free cigarettes until 2007, four years after legislation forced it to stop supplying them to the public.[5] [6] ASH is waiting to hear from Gallaher and PMI. Imperial Tobacco has responded but refused to say whether they gave free fags to their staff, [7] but former employees of the company who have contacted us make clear it was common practice.
Julie Wilson began working at Rothmans International plant at Spennymoor in County Durham in 1978, aged 20, and worked there for six years. She was required to smoke as part of her job as a laboratory technician testing moisture levels and checking that cigarettes met quality standards. She was also allowed to buy 200 cigarettes tax-free every week, further incentivising her to smoke. She only quit nearly 40 years later after developing angina which gave her severe chest pains and made her out of breath after walking for short periods. Julie said,
"I smoked 20 cigarettes a day and would've smoked more if I could afford it. I was definitely addicted, I would panic if there weren't cigarettes around. If I woke up in the night, I would smoke. Rothmans encouraged smoking, it wasn't right how they supplied free cigarettes, I was expected to smoke as part of my job and cigarettes were available at every turn. I didn't think anything of it as there was nothing said about the health risks."
Anne Smith[8] worked at John Player & Sons in Nottingham, part of Imperial Tobacco, for five years in the 1950's and was supplied with free cigarettes from the age of 18. Now 80 years old, Anne has been diagnosed with Chronic Obstructive Pulmonary Disease (COPD), 9 in 10 cases of which are due to smoking [9]. Anne said,
"The only reason I started smoking was because John Player & Sons was giving them to us all for free. I'd smoke the 20 cigarettes I was given a week; I couldn't buy more on my wage at the time. Once I changed jobs, I was smoking about double that. I quit smoking 40 years ago but the damage was already done, I was diagnosed with COPD a few years ago."
In its response to ASH, BAT also said, [4]
"Just like the general public, our employees have been aware of the serious health risks of smoking and that smoking can be difficult to quit and BAT employees who choose to smoke …do so voluntarily and with knowledge of the health risks."
But Richard Meeran, partner at law firm Leigh Day, acting for Simon Neale, disagrees saying:
"We believe that giving employees huge quantities of highly addictive, powerfully cancer-causing cigarettes, free of charge, and placing them in a work environment in which they are encouraged to smoke, is a flagrant breach of an employer's duty of care."
While court cases seeking compensation from the tobacco manufacturers have not yet been successful in the UK, they have in many other places round the world including the US and Australia. Most recently in Quebec in Canada, the tobacco industry lost an appeal over a decision by the Courts that "the Companies indeed did conspire to maintain a common front in order to impede users of their products from learning of the inherent dangers of such use", which went on to say that, "the Companies not only knowingly withheld critical information from their customers, but also lulled them into a sense of non-urgency about the dangers". [10]
As a result BAT and Japan Tobacco International subsidiaries in Quebec have been ordered by the Quebec courts to pay damages of about C$14 billion (£8.2 billion) [11], and 10 Canadian provinces are also seeking C$500 billion (£293 billion) [11] in damages to help pay for the healthcare costs caused by smoking.[10]
In a secret internal memo from 1980 senior BAT scientist Dr Green wrote: "It has been suggested that cigarette smoking is the most addictive drug. Certainly large numbers of people will continue to smoke because they can't give it up. If they could they would do so. They can no longer be said to make an adult choice."  Yet 16 years later, before Dr Green's memo was made public, the Chief Executive of BAT was still denying they knew it was addictive to city analysts and journalists saying: "We have not concealed, we do not conceal and we will never conceal … we have no internal research which proves that smoking … is addictive." [12]
Dr Nick Hopkinson, chair of ASH, said,
"The companies behaved just as badly in the UK as in Canada and they should be held to account for it by the courts here.  Tobacco companies make huge profits and we're also calling on the government to force the tobacco companies to pay a 'polluter pays' charge for all the damage it has done and continues to do. The charge should be used to help smokers quit and discourage young people from starting to smoke."
The "polluter pays" charge on the tobacco transnationals is designed to deliver a fixed sum annually to the Government to fund high impact, evidence-based measures to reduce smoking prevalence. Making tobacco manufacturers pay a levy or licence fee to Government for measures to help smokers quit and prevent young people taking up smoking is strongly supported by 72% of the public with only 7% opposing.[13]
ENDS
Notes to the editor:
About Action on Smoking and Health:
Action on Smoking and Health is a health charity working to eliminate the harm caused by tobacco use. For more information see: www.ash.org.uk/about-ash ASH receives funding for its programme of work from Cancer Research UK and the British Heart Foundation.
References:
[1] People who took up smoking before the 1990s and are now seriously ill from smoking are encouraged to contact ASH see https://ash.org.uk/home/
[2] PIEDA. The UK Tobacco Industry: Its Economic Significance. London: PIEDA consultancy. 1981
[3] Letters to British American Tobacco, Imperial Tobacco, Japan Tobacco International and Philip Morris International. April 2019.
[4] British American Tobacco. Letter to ASH. 3 May 2019.
[5] The Tobacco Advertising and Promotion Act 2002 (Commencement) (Scotland) Order 2002
[6] Tobacco Advertising and Promotion Act 2002
[7] Imperial Tobacco. Letter to ASH. 14 May 2019.
[8] Anne Smith is a pseudonym as while she was happy to tell ASH her story, she wishes to remain anonymous.
[9] NHS, 13/09/16, Chronic obstructive pulmonary disease (COPD), Date Accessed: 10/05/19
[10] Le Tourneau vs JTI-MacDonald, Imperial Tobacco Limited, and Rothmans, Benson & Hedges. Superior court (class action division). 2015 QCCS 2382.
[11] Financial Times. Canadian Dollar/UK Pound Sterling FX Cross Rate as of 24/05/2019. Date accessed 24/05/2019
[12] Canada appeals court orders tobacco firms to pay billions in damages BBC News Online 1 March 2019
[13] Clive Bates, Andy Rowell, 2004, Tobacco Explained: the truth about the tobacco industry in its own words, Date Accessed: 10/05/19
[14] Total sample size was 12,393 adults in Great Britain. Fieldwork was undertaken online between 12th February 2017 and 10th March 2019. The figures have been weighted and are representative of all adults (aged 18+).